11 Mar 2022 - News
An Interview with Paddy Trainor – Employee Of The Year, The Inside Story
Back to all news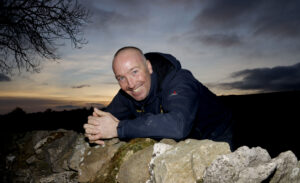 An Interview with Paddy Trainor – Employee Of The Year
by Kevin Parsons
It was 1998 and Paddy's military dream was crushed and put behind him, however it was an opportunity to sign up for a course at the British Racing School that kept Paddy's dream of having a career working with horses alive.
Born in Westminster London, in July 1981, to parents who met and worked in the Military. His mum in the women's regiment and Dad in the Irish Guards, Paddy spent much of his time growing up between bases in Chelsea and Germany. It was during his years spent in Germany that Paddy fell in love with horses, joining many of the horse camps for children on the base, he was hooked, riding them, learning about them, and just spending time with horses was his release.
Paddy was diagnosed with dyslexia at an early age and found his schoolwork a real challenge, but horses were his getaway, his chance to forget schoolwork and excel in his love and care for horses, who gave him just as much love as he did in return. A kind of therapy which instilled and magnified his passion in wanting to work with them in the future. Horses helped him a lot throughout his school life.
When his parents completed their time with the forces the family moved back to his father's homeland of Northern Ireland, a short time later and with the troubles still on-going in over there. The family decided to move to his mother's homeland of Scotland, Govan in Glasgow. This was where Paddy finished his latter school years and picked up his Scottish accent, yet his dreams to join the army and work with horse's were still real, and his heart set on joining either the Blues and Royals or the Household Cavalry.
On leaving school and having spoken to the Army careers office, Paddy signed up, to work with horses in the military, following in his families' footsteps and living his dream.
Following the completion of his basic army training and a discussion with his senior leadership, he was informed that on passing out it would still be another few years before beginning to work with the horses, This wasn't what Paddy had signed up for, he wanted to work with horses, they were his life, his release, and not having that sooner made him feel like his world had ended, this saw him make the big decision to leave the army and walk away from his dream.
Back at home and stuck with what to do he met with a career's advisor at his local job centre to discuss what options were out there. Working with horses, that was his dream, but in what role, how, and where was the problem. It was then they found the British Racing School, and with contact being made an interview was arranged, all the way down in Newmarket. Paddy was excited and nervous, with what little money to his name, he planned his journey.
This wasn't an easy journey, on his own Paddy set off from Glasgow, on a bus, to the British Racing School, 17 years old and heading off alone, this was 1998 before mobile phones with internet to help, hoping he was going to get there. From Glasgow to London, London to Cambridge, Cambridge to Newmarket, "I was a nervous wreck all the way there," he remembers, but he made it.
Seeing the facilities and the horses, Paddy was sold, this was his dream, the most daunting part was that they were racehorses, a whole new ball game, undeterred he was keen to be successful in the interview and secure a place on a course.
Waking up the next day that saw Paddy take the opposite bus journey all the way back home, once again alone, yet successfully navigating his way back to Scotland.
Once back at home he was waiting for the news on whether he had been accepted, he finally received the phone call, letting him know he had been successful and that there was a place for him to start on a course. "I was buzzing, my only worry was the racehorses, I had never worked with them before, I had watched the Derby and racing on Channel 4, but that was it."
Absolutely delighted with the opportunity this was Paddy's first step into the racing industry.
Making that same trip again, back to Newmarket, with his bags packed, this time for a nine-week course with Sue Donnelly as his instructor and Julia Fielden who assisted with the course. Paddy still loves seeing Julia at the races and enjoys reminding her that she 'made him'.
Paddy loved his time at the British Racing School, on the course above him was Paul Mulrennan, who has gone on to great success in his own right as a jockey, and Brett Williams now working on the media side of the industry.
Having graduated from the British Racing School he was placed at Jonjo O'Neill's, at that time based up in Penrith, a remote setting in the middle of nowhere, he would have to get a taxi just to go shopping, Paddy was not happy or settled at all. It was then during a conversation with another friend who he had met at the British Racing School, Rhonda, she said to him 'why don't you join my yard? you'll like it here,' he then contacted Mark Johnston Racing, was offered a job, and as they say, the rest is history!
On the 1st of March 1999 Paddy began his new role in Middleham, and twenty-three years later he is now pretty much one of the oldest parts of the furniture at Johnston Racing.
Starting off there as a young rider and groom Paddy was taken under the wing of Brendan 'Blarney' Holland, "I was a bit of a jack the lad back then and he was someone who kept me on the straight and narrow and taught me so much in those early days. He used to teach me how to poultice horses, trot them up, recognise horses for lameness, splints, the lot, he was so knowledgeable."
Keen to learn Paddy was always asking for advice, watching his older peers, and asking to help wherever he may be able to expand his knowledge and practical skills. Notable people like Bobby Elliot who Paddy says 'Is a real horseman and old school type' taught him the right way and how to be around others. Jock Bennett and Andrew Bottomley are two other standouts that have taught him a huge amount in the yard over the years. On the racing side of his job Robynne 'Red' Watton and Hayley Kelly taught him the way with the high standards and what is to be expected, and how it should be done at the races. "So many people have helped me along the way, throughout my career. I have been fortunate to have been taught and learnt from many people, not just in my yard but outside also, from people on the racing circuit, other travelling staff who you are on the road with and like another family." This includes Alyson West of James Ferguson's, a fellow finalist and winner of the Dedication to Racing Award this year.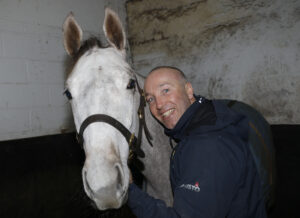 Realising he wanted to forge a long-term career in the industry led him to his current role, a role overseeing the breaking in of the many yearlings that arrive each year to the yard, initially having asked to help and learn whilst the head lads were doing it. It was under their guidance and tuition that Paddy began to learn how to lunge and long reign, driving them up the moor, putting saddles on, laying riders across, stalls work, every area of breaking one in. From day one of any yearling walking off the horsebox, to seeing them grow, have a career and success on the track is what Paddy loves most about his job.
On to the racing side of his role, and a role where most people across the industry have met Paddy.
Whilst he was gaining experience with the younger horses in handling them, this was when Paddy was entrusted with leading up some of the trickier horses at the races. An experience he always remembers was with a couple that were a real handful in the parade ring, the boss came and took them off him. Now whilst many in that situation would or could have taken offence and be upset in that they may have felt not good enough, Paddy took it the other way, "He was showing me how to deal with that horse." Looking back this is something that Paddy feels taught him the best way to manage a tricky lead up and deal with the situation, proving you never stop learning. "I now pass this onto the youngsters at the yard, passing on my knowledge I learnt from others to them."
Over his two decades plus as part of the now Johnston Racing, he has been fortunate enough to have been part of the travelling team and involved with some of the very best horses in the yard. The first big winner he led up was Shanty Star, winner of the Queen's Vase at Royal Ascot and ridden by Kevin Darley.
Dee Ex Bee gave him the opportunity to lead up in the Derby, a thrill, with him finishing second. This was a real a special day for Paddy. His first Group One winner that he led up was ridden by Frankie Dettori, the filly Nahoodh in the Falmouth "That was like winning the Godolphin Awards for me back then." The second Group One winner that he led up, back in Newmarket again was Awzaan winning the Middle Park with Richard Hills on top.
"My third Group One winner though was probably one of my best days in racing, leading Joe Fanning up on his first ever Group One winner, The Last Lion in the Middle Park, on his birthday too. I was really choked up."
Through his travelling role Paddy has been lucky enough to visit every flat track in the UK, taken horses to France, Ireland, Germany, Turkey, and most recently flew out to Saudi Arabia for the meeting at Riyadh where he had 'the longest lead up of his life'. In the UK it is Ascot though that tops his list of the best course to visit, one he always looks forward to going to. Travelling abroad however "I love going to Deauville, it's like stepping back in time, the racecourse, the buildings, everything about Deauville, seeing the lifestyle, I love it there."
Everyone in the industry has that one horse that means more to them than the rest, and for Paddy that horse is Watersmeet. "He is probably my most favourite horse I have looked after in my time at Johnston Racing, as a colt he would nip you and was full of it. His first couple of runs were disappointing and after gelding him, that was it, the making of him!"
Currently though it is his role as a rider coach that leaves him feeling on cloud nine, having been taught by many great senior experienced staff over the years Paddy was keen to give back and develop himself. Always keen to help and show younger staff the way to do things. "I love teaching young staff, one example is showing staff that are hungry and keen to improve how to lunge and then seeing their face light up when doing it is so rewarding."
Tentative about taking on the rider coaching qualifications due to his dyslexia, and the written work that would be required as part of the course, he took the bold step and signed up.
The courses he has taken part on have been full of a good people from the industry and of great support to each other, including Carrie Ford, someone who he respects immensely. He has since gained Level 1 and Level 2 qualification as an industry Rider Coach. "That is two qualifications that I didn't ever think I would have in my life. In something that my heart is fulfilled in, qualifications that are now part of the industry."
Following his training he has now twice been into different yards to coach staff, the first visit was to Phil Kirby's. "Going in I was really nervous, but once I was there and underway it was great, to see how another yard worked too, I was in my element, a similar high to before the Godolphin Awards."
Recently he had a day off on the Monday, not wanting to be sat around he arranged to head into the yard of Michael Dods, to offer his coaching advice once again to the staff. "I don't want to be paid, I would do it for free, I just want to teach people, I love it."
A full morning spent with the staff saw them starting in the arena first, with him giving advice, taking videos and pictures, and then offering feedback on how they could improve, "Seeing their smiles made it worth it." Said Paddy
Paddy is passionate about every yard having a rider coach. "What I want in the future is whether you are a little or big yard, you should have access to a rider coach."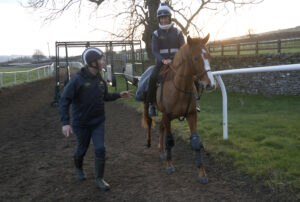 Having previously made the final ten twice previously in the Rider/Groom category of the Godolphin Stud and Stable Staff Awards, once again he was delighted to have been nominated by the yard, a nice recognition for the work he puts in. Making the final ten again this year he was delighted and following his telephone interviews from the judges Dawn Goodfellow and Mick Fitzgerald he was awaiting the result.
It was just before Christmas that Paddy received a call, that he missed, but the voicemail was from a lady, at the BHA regarding the Godolphin Stud and Stable Staff Awards.
"I honestly thought at first it was one of the lads putting on a lady's accent from an unknown number just to wind me up." On returning the call and with Paddy still thinking it was a wind up, he was congratulated and told that he had made the final three, he had to ask though, "Is this a wind up?" 'No, it's true', was the reply. Paddy wanted to scream the news from the gallop tower but was told to keep it quiet until the news was released officially. "I had made the top three, I couldn't believe it, everything I had worked hard for and wanted to achieve, this was the icing on the cake, serious, and everyone in the yard knew how much I wanted this."
Paddy says it was hard being up against one of his work colleagues, John Nicholson, another person within in the yard who he knows how much he does and how hard he works. "I could come home at 3am in the morning and John is doing his night feeding and is always the first to greet and congratulate them off the box when they return home, whatever time of the night."
On the evening of the awards Johnston Racing put on a spread and drinks and set the room up for the everybody, for the staff to support Paddy and John, John unfortunately having Covid could not join in with everyone due to isolating at home. "It was sad not having John with us too."
With the awards underway Paddy says, "If someone had a heart monitor on me it would have blown up. Boom"
When the winner of the Rider/Groom category was announced Paddy thought, 'wow, I've won the award,' to him "It was like winning the World Cup! I was in tears, it was like everything I have been through, to get where I am today. The ups and downs, the losses, it all just came out."
His wife Sam commenting after to him that 'you didn't cry that much on our wedding day'.
Paddy had totally forgotten or even thought about the Employee of The Year award, until someone mentioned it to him, he couldn't believe he was now in the running for that too.
In this category he was now up against Alyson West, someone he mentioned previously, someone from the racing fraternity he respects and has learnt so much from during his time in racing. The category was completed with both Tom Messenger, assistant to Dan Skelton, winner of the Leadership Award and Ducile West, the winner of the Stud Staff Award.
"Hearing my name announced as the winner I nearly fell off my chair, I couldn't really hear anything, everyone was roaring, and I couldn't hear what Ollie Bell was saying."
On reflection Paddy says, "I have achieved what I have wanted to achieve all of my life. Now I've done it, I want to see more staff getting nominated, so many people that deserve to be put in across the industry that I don't feel get nominated."
The trophy was sent to the yard for him to receive, which made him realise even more how special it was when seeing the names of the previous winners to be 'Employee of The Year,' one being Jock Bennett the yards assistant trainer. Paddy said, "Seeing the names on there, of special people that I have looked up to, heroes, people still on the go and a credit to the industry made me feel proud."
The prize money as Paddy states 'is life changing'. The trophies and recognition alone would have been enough, but the money is a bonus that he thanks Godolphin for, having recently bought a house with his wife Sam, it will be their first owned family home for them and their daughter Shannon.
Asking Paddy about his future in racing. "I am going to finish my career at Johnston Racing, I have already told Mark and Charlie, everyone knows, I came here as kid and am now a grown man, married and with a kid. From the bottom of my heart, I have my own family and my work family, this is where I want to be."
When asked about his future role and aspirations at the yard he says, "I spend four months breaking the yearlings and then eight months at the races, I love it and want to do that for as long as possible."
Paddy also wants to gain his Level 3 Rider Coaching qualification, something that is currently still in development, but something he admits would be a challenge for him, but he wants to really push for another qualification and to continue improving.
"I would like to be an ambassador for racing, the staff in the industry, and promote as much good work as possible."
The Racing2learn industry online learning platform is something that Paddy has found very useful in his own development, "I am not great with technology, and have my issues with learning, but I have done a lot of the modules on the platform, it has really helped me learn in my own time."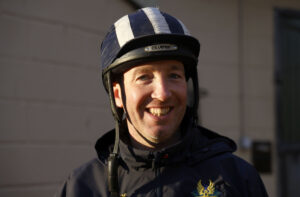 We then asked Paddy for his views on the industry.
What is the one biggest changes or improvements you have seen in your time in the industry?
"The Money, the pay, I started on £75 a week back in the day, now I am on a good wage. The services available to staff from Racing Welfare and NARS who are now better known across the workforce. The improvements on racecourse facilities have been good to see too with many getting much better."
Leading on nicely, what are your views on Racecourse Facilities for staff?
"It has changed a hell of a lot, from the days we used to all be in with loads of other lads has changed now, everyone should have their own room when staying overnight.
Of the worst ones personally for me are Goodwood, Ripon and Brighton, the links hostel at Newmarket is dreadful too, staying in the hotel in town during Covid was much better.
Of the best ones, Lingfield, Catterick and Ayr are three that have improved their overnight accommodation. York now is amazing for staff. It is Ascot for me though that is the top one for me, a place I love going to."
What are your three best things about working in Racing?
Meeting new people: Going to the races and meeting new people, chatting to staff that have joined the industry or maybe new to it, hearing how other yards do things differently, as you know I just love chatting to everyone.
Winners: Whether it is a big race or small race, for a big owner or small owner, seeing horses win that I may have worked with from their first few days in the yard. A notable one for example was Subjectivist for Jim Walker, a great supporter of our yard and a true gentleman, I love seeing his horses win for us.
Industry Family: The racing community, it is like one big family, when we sadly lose someone, everyone comes together and supports each other, I have seen it on many occasions. Weddings, christenings, everyone comes together to celebrate, not just your own yard but from around the country, it's the best!
What are your three worst things about working in the industry?
Losing Horses: Losing a horse, whether it is on the track, off the track, I still get choked up about, knowing they have the best health care and looked after well, it is always sad.
Betting: On social media, advertisements, ITV, Sky Sports Racing, Racing TV, for me there is too much, yes you can put a bet on, but it's far too much.
Losing Staff: Staff that decide to leave the industry, I think that is sad, people that have been in the game a long time, with great experience and knowledge and decide or feel they can't do it anymore.
If you could change one thing about the industry, what would it be?
"Drug taking in racing, having seen the impact on friends in the industry, it is an issue, it is rife.
My yard at Johnston Racing is now carrying out drug testing and it is something that I feel should be brought in nationwide, because even if we now know our yard is fully clean, sadly there are staff working in other yards still doing it."