8 Feb 2018 - News
STABLE LASS
Riding out and mucking in
Tales from a Yorkshire racing yard – Gemma Hogg
To be published in hardback on 5 April 2018 at £16.99 and in ebook at £6.57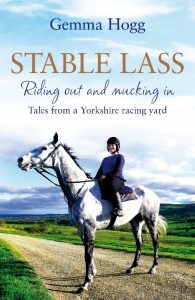 'Vividly funny, shockingly frank, deeply passionate, movingly sensitive – and that's just about the horses!  A bawdy, caring, and wickedly insightful stable yard rite of passage that no racing fan should miss.' – Brough Scott
Stable Lass is a unique look into the world of horse racing filled with heart-warming stories and amazing thoroughbreds. It is an insightful account of life as a stable lass in one of the country's top racing yards.
Being a stable lass is probably one of the hardest jobs in the country and yet for Gemma Hogg it is the most rewarding. She works in the beautiful Yorkshire market town of Middleham and if her colleagues are occasionally challenging, then the horses are downright astonishing. Now in Stable Lass, she takes us into the closed world of a top racing yard, from the elation of having several winners in one day to the almost indescribable grief of losing a horse.
Like most stable lads and lasses, Gemma arrived in her yard as a teenager fresh out of racing college and had to cope with living away from home for the first time, as well as adapt to the brutal long hours, backbreaking work and often treacherous weather. She describes falling in love with Polo Venture, the first racehorse in her care, the pure exhilaration of riding him on Middleham Gallops for the first time and what happens when a horse takes against you, from the growling gelding Valiant Warrior to the potentially lethal Broadway Boy. She brings to life the characters around the yard, from straight-talking boss Micky Hammond to the jockeys starving themselves to make weight, the wealthy owners and the other stable lads and lasses who come from a range of different places and backgrounds.
Gemma Hogg is assistant trainer at Micky Hammond Racing, which is based in Middleham in North Yorkshire. She has spent her entire career at Micky's yard joining in 1998 as a stable lass and working her way up to her current position.
As well as operating as Micky's right-hand woman when it comes to training horses, she mentors new staff and is passionate about re-homing retired racehorses. In 2016 Gemma was named Employee of the Year at the prestigious Godolphin Stud and Stable Staff Awards, where she also triumphed in the Leadership category.
For further information and to arrange an interview with Gemma on publication please contact Philippa McEwan on 0207 014 6179 or email p.mcewan@macmillan.co.uk.